Beauty & Self
Books & Music
Career
Computers
Education
Family
Food & Wine
Health & Fitness
Hobbies & Crafts
Home & Garden
Money
News & Politics
Relationships
Religion & Spirituality
Sports
Travel & Culture
TV & Movies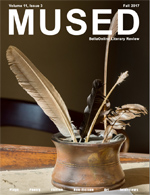 Autumn is a season for counting our blessings. For realizing just how much we have in life where so many others are without. It can often be easy to take things for granted. Things which millions of people desperately dream of having. By pausing for a moment, and looking around with mindfulness, we can find a new center. Begin with fresh energy.

Enjoy the Mused Autumn Equinox 2017 Issue



Unexplained Infertility And Natural Killer Cells
Infertility - Hannah Calef, Editor

Elevated levels of natural killer cells (NK) - the good guys that keep you healthy - may make women infertile too!




Body Care Holiday Gift List 2017
Body Care - BB Lee, Editor

This year, the gift list is all about health and comfort. The holiday gifts on this list are also practical and very affordable. Check out the 2017 Body Care Gift List.




Turmeric Tea Benefits and Golden Milk Tea Recipe
Tea - Mary Caliendo, Editor

The benefits of turmeric tea discussed and recipe for Golden Milk Tea




Sew a Clothespin Doll
Sewing - Cheryl Ellex, Editor

Of all the delightful things to handcraft or sew as ornaments clothespin dolls will surely bring a smile as they hang serenely with festive candy canes, jolly Santas, and smiling snowmen on a decorated holiday tree.




Routine Cleaning for Company Clean Results
Cleaning - Tammy Judd, Editor

Cleaning for company doesn't have to be stressful. If you keep in mind a few helpful tricks that will make cleaning even easier, it will be even faster!




Skin Care Tips for Winter
Cosmetics - Katrina Simmons, Editor

Winter can be gorgeous. It can also be extremely cold which does a number on the skin and lips. Keep reading to find out how you can stand out in the crowd and look completely unbothered by the harsh weather.


| Google+ |
E D I T O R R E C O M M E N D E D
TomTom ONE 130s GPS


Looking for a great GPS unit for your car? The TomTom ONE 130s is a great, moderately priced GPS system with text to speech capabilities. Spoken street names and TomTom´s EasyPort mounting system make this a terrific GPS unit!
Spirit Beach - Paranormal Romance Novel


When Renee Simone stumbles on the legend of John Henry Covington, the man with the mesmerizing eyes in the ominous portrait at the Covington B & B she and Adrian find out too late that a vampire's lust for love and blood never dies. Fear grows as the gusty sea spray and wind persuasively invites her to a personal audience with a ghost… "I´ve been waiting for you, Renee."
Caillou Goes Back to School DVD


Caillou Goes Back to School DVD is great for kids who are Caillou fans, and other kids who enjoy watching shows that depict family life.